Take you to know BeagleBone Black and MinnowBoard Max
What is BeagleBone Black?
BeagleBone Black is a low-cost, community-supported development platform for developers and hobbyists. Boot Linux in under 10 seconds and get started on development in less than 5 minutes with just a single USB cable.
Processor: AM335x 1GHz ARM® Cortex-A8
• 512MB DDR3 RAM • 4GB 8-bit eMMC on-board flash storage • 3D graphics accelerator • NEON floating-point accelerator • 2x PRU 32-bit microcontrollers
Connectivity:
• USB client for power & communications • USB host • Ethernet • HDMI • 2x 46 pin headers
Software Compatibility
• Debian • Android • Ubuntu • Cloud9 IDE on Node.js w/ BoneScript library • plus much more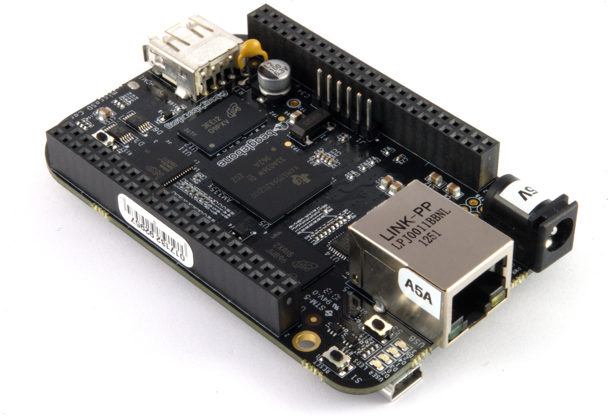 What is MinnowBoard Max?
MinnowBoard Turbot is a low cost, commercially available, reference platform for hardware, software and firmware developers who wish to work within an open environment. Design specifications and materials have been provided to the open community, encouraging platform experimentation and derivative designs. This page provides material to support UEFI firmware development for MinnowBoard Turbot, Turbot derivatives, and the original MinnowBoard Max platform.
• Binary Firmware Images ("UEFI BIOS"): 32-bit and 64-bit UEFI builds, with Debug and Release images. Includes flash update utilities and release notes. • Binary Object Modules for which source code is not available due to the Intellectual property for both Intel silicon (microprocessor and chipset) and third party components. • Instructions for integrating the EDK II source tree (BSD license) with the Binary Object Modules to build firmware.
MinnowBoard Max/Turbot is also supported by Intel® Firmware Engine, enabling firmware customization without the need for source code.